A planet of their own
Herald Sun (Melbourne), Friday 24 May 2005

The huge, gaseous planet, called OB-05-071, is in the Milky Way between Earth and the centre of the galaxy, about 20,000 to 25,000 light years away.

The odds of the find were one in 10 million, according to Stefan Dieters of the the Canopus Observatory team at Cambridge, which found the new planet.

On three nights in April, Dr Dieters and Kym Hill were in the right place at the right time to identify the new planet, 1000 times the size of Earth.

The news will be posted on Harvard University's Centre for Astrophysics' NASA-sponsored website at 10am today.

The University of Tasmania team is part of an international project code-named PLANET, co-ordinated by the Paris Institute for Astrophysics, which is pioneering the use of gravitational microlensing to look for new planets.

PLANET has telescopes ringing the southern hemisphere, in Hobart, Perth, Chile and South Africa, enabling members to keep watch at night continuously for 24 hours after an alert.

Dr Dieters and Dr Hill were at Canopus when alerted to the possibility of the new planet by MOA, an independent group in New Zealand.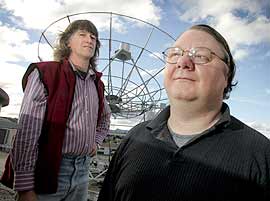 Discovery: Dr Kym Hill and Dr Stefan Dieters at the Tasmanian observatory where they discovered a new planet in the Milky Way.


The original article can be found here

[ In the News ]
[ Optical and X-ray Astronomy home page ]
[ Physics home page ]
URL: http://www.phys.utas.edu.au/physics/optastr/media_article/HeraldSun240505.htm
16th December 1998